Presidential changeover
During the Wednesday club meeting at the Grand Hotel in Sopot, President Bendt Haverberg spoke briefly about the past year, and how much he has enjoyed serving as President for the third time, despite the difficulties due to the Covid pandemic. He also mentioned our charity projects and how he was looking forward in his position as Sergeant at Arms to helping the incoming President Julian Gilbert.
President Bendt then presented incoming President Julian with the chain of office and the club bell.
President Julian thanked Past President Bendt for his hard work, dedication and service and underlined his great strengths particularly for getting things done. He then presented Past President Bendt with a gift on behalf of all the club members.
The meeting was informal, with first-rate snacks served along with coffee and excellent open discussion among members.
The Board: LINK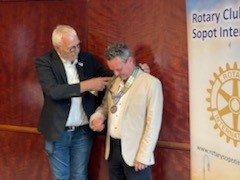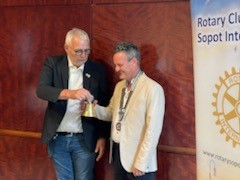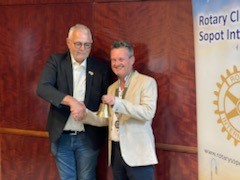 Text: Julian Gilbert
Photo: Anna Wiśniewska & Tomasz Kosiński