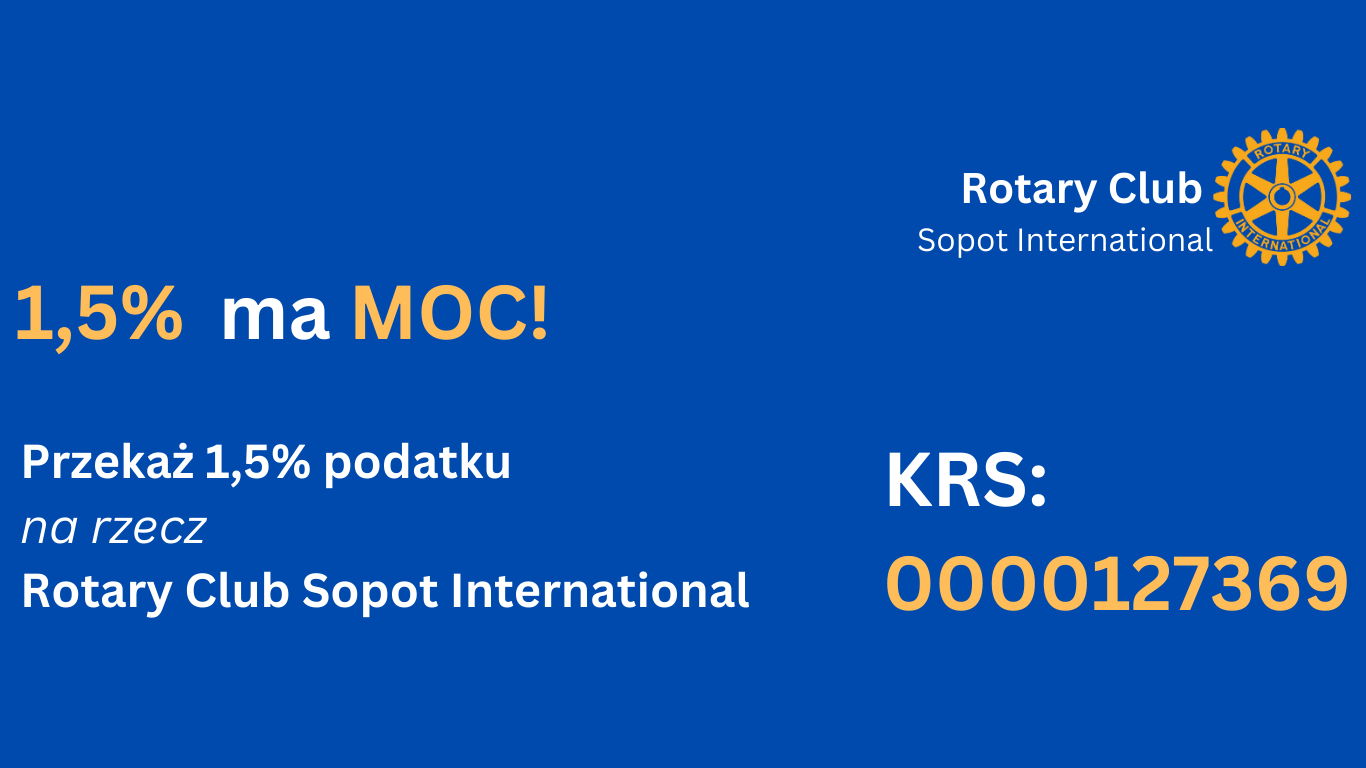 your annual PIT scheme, there is a place to state the amount contributed to public charity organizations (organizacja pożytku publicznego).In your annual PIT scheme, there is a place to state the amount contributed to public
charity
organizations (organizacja pożytku publicznego).
Since 1st January 2004, the law on public benefit activities and volunteers has been active along with the amended law on personal income tax which allows private taxpayers to contribute up to 1% of their taxes to a public charity organization instead of to the state
In other words, this is an opportunity for you to decide what to do with a part of your own tax payments. We would like you to choose to contribute 1% of your private taxes to Rotary Club Sopot International for our charity programs.
Our club obtained the required status as a public charity organization on 28th May 2004.
Our club fundraising support:
Hospice
Hospice for kids
Rehabilitation centre/hospital
Old people home
Individual support
Charity Project across the border, in cooperation with Rotary Clubs, and Rotary Foundation.
Our club details follow below:
Rotary Club Sopot International
Address: c/o Grand Hotel
ul.Powstańców Warszawy 12/14
81-718 Sopot
KRS: 0000127369
SWIFT-code: BPKOPLPW
Bank Account No: PL 92 1440 1026 0000 0000 0289 1198
Euro Account Number 40144010260000000014101454
The tax forms listed below may assist you.
Remarks:
On Forms PIT28, PIT36, 36L, 37 and 38 all that is necessary is to fill in our Club's KRS number 0000127369 in the box "Numer KRS". You then complete the amount of the 1% in the box at the bottom right-hand corner
In your annual PIT scheme, there is a place to state the amount contributed to public charity organizations (organizacja pożytku publicznego).
If you are eligible for tax returns and contribute the 1% to our club, you should also get a higher tax return from the Tax Office.

1 stycznia 2004 roku weszła w życie ustawa o działalności pożytku publicznego i o wolontariacie (Dz.U. 2003 nr 96 poz. 873). Na jej mocy podatnik płacący podatek dochodowy od osób fizycznych może przeznaczyć 1% swojego należnego podatku na rzecz wybranej przez siebie organizacji pożytku publicznego znajdującej się na oficjalnej liście tego rodzaju organizacji.Na wniosek podatnika wyrażony w zeznaniu rocznym jeden procent na konto bankowe OPP przekazuje naczelnik urzędu skarbowego.
Serdecznie zapraszamy Państwa do przekazania 1% Waszego podatku dochodowego na rzecz Rotary Club Sopot International  nr  KRS 0000127369, który od 2004 wpisany jest do Krajowego Rejestru Sądowego jako Organizacja Pożytku Publicznego.
Otrzymane od Państwa pieniądze przekazujemy w 100% na szczytne cele.
W ostatnich latach wraz z Hannover Ballhof Rotary Club  i The Rotary Fundation jako Maching Grant zakupiliśmy wyposażenie do Sopockiego Inkubatora Przedsiębiorczości Społecznej za 73 783 zł . W tym samym partnerstwie wymieniliśmy wyposażenie w Hospicjum Świętego Józefa w Sopocie na kwotę 169 891 zł.
Wyremontowaliśmy i wyposażyliśmy kącik dla malucha w Szpitalu Rehabilitacyjnym w Dzierżążnie na kwotę  11 226 zł. Obecnie przekazujemy też  wyposażenie za 7938,50 zł.
Wsparliśmy Poradnię Onkologiczną przy Szpitalu Specjalistycznym im. F. Cejnowy w Wejherowie na kwotę  6 290 zł.
Przekazaliśmy 459,43 euro na budowę studni w Kenii.
Co roku wspieramy obóz językowy dla dzieci z rodzin w trudnej sytuacji na kwotę 5 000 zł i p Wsparliśmy kwotą  6 090 zł obóz wędrowny 2018 dla dzieci z rodzin ubogich organizowany przez Rotary Klub Bydgoszcz.
Wspieramy rehabilitację  17 letniego Patryka Bauera  po ciężkim wypadku do 5 000 zł.
Informacje dodatkowe
Jeden procent może przekazać: podatnik podatku dochodowego od osób fizycznych, podatnik opodatkowany ryczałtem od przychodów ewidencjonowanych, podatnik objęty liniowo 19-procentową stawką podatku, podatnik uzyskujący dochód z odpłatnego zbycia papierów wartościowych oraz pochodnych instrumentów finansowych. Adresatem dotacji może być jedynie organizacja wpisana do Krajowego Rejestru Sądowego. Aby zachować prawo do przekazania jednego procenta należy złożyć rozliczenie roczne w ustawowym terminie,
do 31 stycznia dla zryczałtowanego podatku od przychodów PIT-28,
do 30 kwietnia dla podatku dochodowego od przychodów osób fizycznych PIT-36, PIT-37, odpłatnego zbycia papierów wartościowych PIT-38.