An initiative from parents and people with open hearts and with great support " Polish Reasecuration Foundation" and Polish American Congress Charitable Foundation, this year started an organisation of a new school  named St. Father PIO.   
A New year opened in 23 of September, I – st year enters 6 pupils  in new school, dedicated for blind childrens, named " Saint Father PIO"   in Sobieszewo, with presence of  Reperesetnative for Unable Children – Paweł Wdówik, a member of Ministery of Education and V-Ce Bishop X Piotr Przyborek.
In 1 – st year –  in class is 6 children, three of them are completely blind.
Some of them has additional problems :
ADHD,
mild level of mental disease.
one of them is traveling from Elbląg (60 km)
It is the only alternative to school in Laski – near Warsaw, but with hotel
Regular education program for primary school is realised thanks to the work of 11 specialists, using special machine for Brail writing and reading  ect.
At present time – no fee is taken from parents
The main source of funds are Sponsors.
Teacher salary is covered by Ministry of Education, in particular from Regional Municipality,
For meals present needs are +/- 1000 PLN / month (for now: one of teachers gave her own money).
For now the school uses foreign rooms, but it is still looking for a pavilion to renovate.
Bank account: 44 1140 2004 0000 3702 8328 1617
 Our Club made a support for 3,300 PLN to support for daily food.
Maria Dudziak,
SIRC,  Paul Harris Fellow,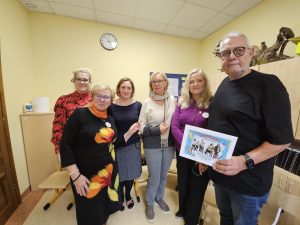 You can also support: