Rotary Club Sopot International is pleased to announce the membership of Patricia Ordonez from Venezuela. Patricia – a graphic designer – was formally welcomed and handed her membership pin by Club President Julian Gilbert.
In Patricia's own words:
"I am passionate about branding and storytelling. I strongly believe in the idea of promoting peace through friendship, so I joined Rotaract Club Nueva Segovia of district 4380 in 2014, there I developed a project related to sustainability and plastics recycling, I was part of the public image committee for the club and the district and the following year I was club secretary. After I moved to Bogotá, Colombia I joined Rotaract club Bogotá Usaquén where I was voted vice president for the period 2015-2016. In 2017, I moved to Argentina and was lucky enough to join Rotaract Club Flores and be a part of the public image committee of district 4895 for the period 2018-2019. I moved to Poland in January 2020 and I´m very happy to be a part of Rotary again."
We welcome Patricia and are proud to have such an active, valuable member of our club.
Julian Gilbert
President 2021-2022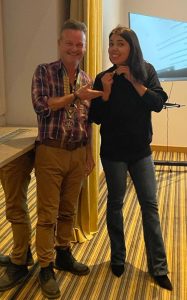 Text: Julian Gilbert
Photo: Bendt Haverberg