Charity Sailing Regatta
On Saturday, June 22nd 2019, a crew of hardy sailors from our Rotary Club Sopot International took part in the 2nd International Charity Sailing Regatta organised by Rotary Club Gdańsk Centrum together with Sopot Yacht Club.
The income from the charity regatta was for the purchase of rehabilitation equipment for disabled athletes using the Paralympic Preparation Centre.
There were 11 teams that took part in the event, which took place in Gdansk Bay, close to the pier in Sopot:
Inter Cars – Grupa Gdańsk
Flügger Farby I
Flügger Farby II
Impladent MBC
Rotary Club Sopot International
ERGO Hestia
Grupa MTP
Sosnowski – Car service
Rotary Club Gdańsk Centrum
Yacht Club Sopot
Dentists and OrthodontistsThe team on the Rotary Club Sopot International boat (a Delphia 24 yacht) consisted of skipper Tomasz Kosinski along with his crew Monika Wardega, Anka Wiśniewska, Julian Gilbert, Monika Schroeder, Marlena Słaba-Pawlikowski (we are boat number 6):Although we didn't win – that honour went to the ERGO Hestia team – we didn't come last, which considering this was the first time our team had all sailed together, was a good result for us. And not even one of us fell into the sea – much easier to happen on a racing boat than you might think!

We had two practice sessions on the Thursday and Friday evenings before the main event on Saturday, and apart from learning a lot about sailing and making money for a good cause, we also managed to have great fun (boat number 6 again):

There was also a good opportunity to fly the Rotary flag and specifically our Rotary Club Sopot International banner and there was a great integration party after the event – with catering, diplomas and prizes for all teams – where we could socialise and spread the good word about Rotary. We will definitely be taking part in the event next year and we are already planning to win first prize!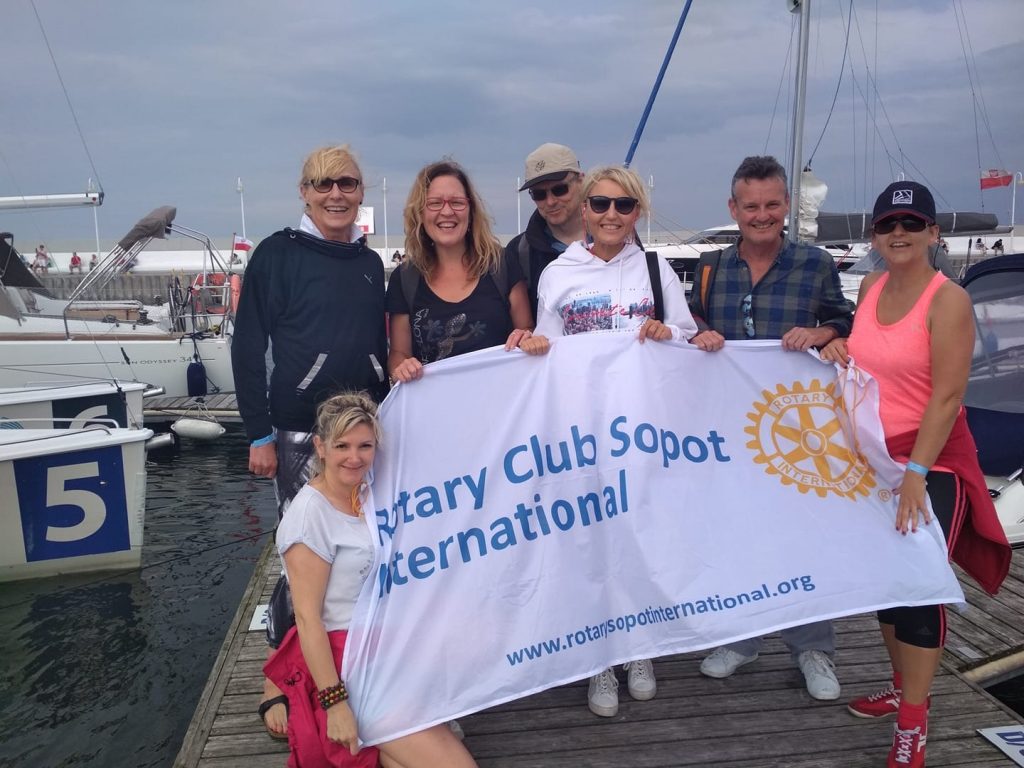 Julian Gilbert
Photo: Crew