GG 1747062 Closing Event
More than 90 Rotarian participate in closing ceremony of the GG 1747062, it was a amazing event, and show ones more Rotary making a difference.
RC Sopot International President Bendt Haverberg participate in closing of the project and got PHF Pin with one Sapphire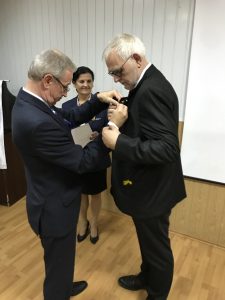 Big appreciation to the organizer Ivana and Tatyana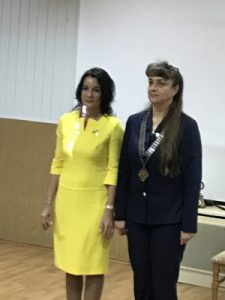 The name: Safe water, improving sanitation and hygiene in Yasinya Territorial Center of Social Services
The total value is 159.771,-USD
The project is joined by 6 RID and 19 clubs.
District: Poland, Sweden, Serbia and Montenegro, Romania and Moldova , Ukraine and Belarus and Czech and Slovak republic
Clubs: District 2240 – RC Kosice Classic – International partner of the grant, RC Kosice, RC Poprad, RC Bratislava Danube, RC Praha City, RC Praga Ekumena, RC Prague International,RC Třebíč, RC Jihlava, RC Písek, RC Trenčín Laugaricio
District 2231 – RC Sopot International, RC Lodz Reymont, RC Koszalin
District 2232 – RC Uzhgorod Skala – Host partner of the grant, RC Lviv Knyazhyi, RC Kharkov Multinational
District 2483 – RC Stara Pazova
District 2241 – RC Baia Mare 2005
We have started to manage and to look for the contributors in April 2016. The biggest supporter of the project is our club – Kosice Classic (46.000,-USD) From April 2016 to July 2017 we have tried to find contributors. In July I have sent the application form with all contributors to TRF. After many emails with TRF, many tasks, the project was approved on 21 February 2018. From July 2018 – till November 2018 – was the realization phase of the grant.
The project is very nice example of an international collaboration within RI. Together we can always achieve more:)
Ivana Lengová
Past President Rotary Club Košice Classic 2014-2016
Member ICC Czech Republic-Slovak Republic-Ukraine
Club Foundation Chair

Hits: 69