About Anthony Korsu
he lives in Sierra Leone Southern Region, Bo City, Torwama Village. He was a student and he has done a course of auto mechanic and he did also auto driving course and he completed it but the fee for the auto driving license cost 200 USD
He is a single boy, he does not have his own family, he lost his mother and father, they both have passed away, when he was three (3) years old
He is searching for a Job in Sierra Leone but he can't find it, because the employers mostly demand for someone with a driving license and Anthony is not able to afford it.
About the money for the auto driving lincense: it costs 200 USD because it contains the permissions to drive for two types of vehicles; trucks and cars. The amount for the auto driving lincense shoud be payed to the Road Transport Authority.
After getting the documents Antony can send/scan to us a copy of the lincense card
We can help Anthony by sending money via Rotary Club (District 9100) in Sierra Leone
ROTARY MAKING A DIFFERENCE
Charity Support 200 USD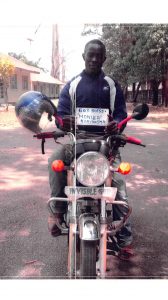 First of all, I must say thanks be to God for your support. By the way, I Anthony Korsu say a very big thank to you. For that I have finally received the wonderful Money gist on Saturday 3rd March, 2018. Thanks, you, thank you so much. May God bless you and give you more and more throughout your life time.
Moreover, the Euro 162.31 Money you send for me through the Sierra Leone Commercial Bank under my account I use the money to add it to what I have to buy a seconded motor bike for transportation as a means to start life. I can't take the motor driving licensee because I already have this opportunity to buy this motor bike and later I will able to get the motor driving license.
Thanks so much. God bless you all that help to support me
Your sincerely,
Anthony Korsu.
Hits: 12